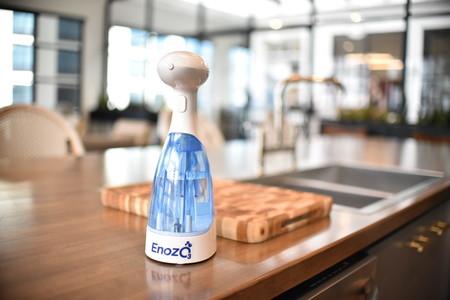 EnozoPRO Sanitizing Spray Bottle
We firmly believe It will revolutionize the way Americans will clean their homes, clinics, day-care centers, schools and offices.  The possibilities are truly endless.
WHY?
Because It takes ordinary tap water and turns it into a sanitizing spray that you can use like common household cleaners today.  
The EnozoPro creates ozonated water through a highly advanced, patented process based on a specially treated diamond. It will last for the equivalent of thousands of bottles of common household cleaner.  
The sprayed water can kill 99.9% of most harmful pathogens such as viruses, E. coli, Salmonella, Listeria, Legionella, MRSA, and more when used as directed.
You won't believe it until you try it, and so we offer you our unconditional money back guarantee. If you don't love it, we will even pay for the return shipping.  We believe in it so much that we will double the one-year warranty offered by the manufacturer.

Free yourself from harmful chemicals and embrace "The Power of EO3™," electrolytic ozone with the EnozoPro sanitizing spray bottle.
Order one today for delivery in May 2020!